"So there will be music, art, sustainability and innovation", these were the words with which the Ambassador of Sweden in Albania, Mrs. Elsa Håstad described Swedish Culture Week.
Energetic, direct and open in her opinion, the same energy was transmitted during the week of culture.
The events ran from 12 to 18 September 2022 and the whole week was an opportunity to discover Swedish sustainable design and meet the young designers, to listen to Swedish music and learn the reason why Sweden is a country of music export.
"But Sweden is also known for sustainability, and maybe that is another word for the leading country", she highlighted.
It all started with the opening of two exhibitions "Sustain Able Voices" and "Swedish Music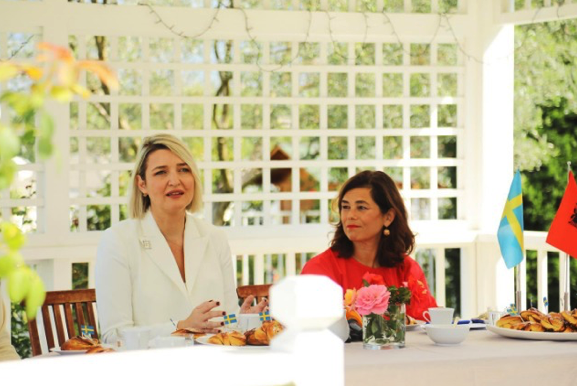 Moments" where The Minister of Culture Elva Margariti was present too.
With the support of the Embassy of Sweden in Tirana and the Swedish Institute, UNYA ALBANIA organized the 5th edition of the Electionville game in different cities of Albania. This took place in Shkodra on September 13.
Other important activities held in the framework of Swedish Culture Week were: Swedish ABBA Tribute Band concert. A night of only music, performed live by the Swedish band, a Friendly Football Match between the team of the Municipality of Shkodra and the Embassy of Sweden at Loro Boriçi Stadium, Shkodra, Swedish Catwalk Cinema at 17:30 Millennium Cinema ecc.
"I think Albania is a great country to make movies in. I hope that Swedish cultural personalities will discover Albania. That is my dream",
this was Madam Ambassador view of how the international cultural week program would help to improve the offering of Swedish cultural activities.
As a great example of female leadership, Madam Ambassador was inclusive, encouraged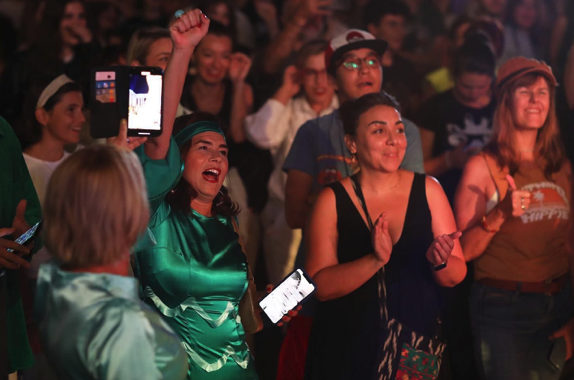 participation and shared information and opinions. In our conversation, we discussed about impressions, investments, tourism, and future programs.
For more, follow the interview below which Mrs. Håstad held exclusively for Albania Economia magazine:
Madam Ambassador, we've noticed you are very present on social media and we consider this a way of being nearer to Albanians, so we'd like to hear your impressions about our country and people.
If we start with social media, yes! We have sixty thousand followers, and a lot of them follow my ambassador account, which is very good because we get a lot of contacts and interactions. I think Albanian people are very open, extremely friendly, a bit critical of themselves, but also very kind.
Which are some of the programs that are currently being financed in Tirana?
We have a big program and we're a big partner not only for Tirana but for all of Albania. Every year we have 15 million Euros, so we come second after Germany, and that is a lot. The Swedish and Albanian tax authorities collaborate with each other.
The environment comes in second, accounting for 30% of our budget. We've been doing it for 20 years, which is important because Albania is becoming an EU member, and much of the work to become an EU member revolves around the environment and climate.
Then there's economic development, which includes empowering businesswomen to lead and attempting to support businesses at various levels.
How about tourism? How is Sweden helping Albania in this direction?
We are helping tourism in different ways. One, we have an institutional level collaboration with the UN to work on tourism sustainability. We promote our Swedish investor, Astrid, in Nivica. "Camp Nivica" is a private Swedish investment, which we promote on a day-to-day basis. What I think is the most important message for Albania is: Do not go for mass tourism, go for small-scale, sustainable, careful tourism. Your country is too beautiful to be destroyed by the thousands of people who may come in. I only go with local guides and only promote local Albanian tourism.
Related to investments: Do Swedish companies show an interest in investing in Albania?
Not at all, as I would like it to be. We only have seven Swedish companies here, and I think a lot about this because it is my work to invite Swedish companies here.
You have something that you don't promote: green energy and no one in Albania is promoting it. You need to promote yourself better because I can do a little bit but not the whole work for you. I actually need help from Albania.
I also think the future of Albania can be in being this 'IT Hub'. In the beginning, I didn't see this because I was thinking only of tourism and culture, but I also think that if you are clever and quick now, you can also take part in the market for IT technicians.
Interview by Sara Kaja | Albania Economia