When? Where? Hosted by?
This October 13 to 14th, 2022, two amazing days at the National Theatre of Opera and Ballet in Tirana, Albania will be inspired form the master speakers and dive into INNOVATION waves. Hosted and organized by INNVEST and Innovation Management Academy Albania (IMAA). The 2 days of high-quality networking, startups, angel investors, and corporate's receptions are organized in the heart of Balkan, in Tirana European Youth Capital.
The summit entrance is free for everyone (except for IMAA Masterclass). 
"There are so many reasons to be excited about these editions of INNVEST Summit for WB6 countries in Tirana as the Youth European Capital" says CEO Fabiola Duro.
What is @INNVEST Summit?
Experienced since 2018, the annual INNVEST Summit – Investing for Impacts is aligned always with a Digital Fair, it is a unique meeting place for angel investors, businesses, innovators, researchers, start-ups, and funding experts of the INNVEST network, to find curated resources, dive deeper, get inspired, and engage. The Summit gathered potential start-up companies and incubators from the six countries of the Western Balkan region to enhance entrepreneurial skills among young entrepreneurs who engage in innovative projects and have an orientation in R&D. 
"We help to build new connections between our tech, talent, and innovation ecosystems so they can thrive."- Fabiola Duro, Founder of INNVEST/ IMAA
All the invited speakers will share their inspirational stories of the journey, lots of opportunities for networking, and the growth of their ideas and innovations. All the invited ambassadors and key speakers will share their inspirational stories of the journey, lots of opportunities for networking, and the growth of their ideas and innovations. In a continually changing world, the brave take the path of uncertainty to explore, innovate and create. Their journey goes onwards and upwards, as the ideas grow and evolve and challenges change perspective, process, and principle. We grew to become one of the region's leading investment conferences with a wide impact on the advancement of corporates.
What to expect?
This 5th edition is taking place in Tirana is all about connecting the WB 6 countries' talent, tech, and innovation ecosystem to the CEE and global audience.
➡️ Tailored 1:1 Meetings: 1:1/ B2B/ B2C meetings on-site and meet Startups, Innovators, Investors and corporations at Digital Fair Area when more than 30 companies will have their booth space at the main hall.  
➡️ 2 days of intensive agenda & side events:  Join 18+ hours of tech-innovative-oriented keynotes and masteries and learn from the first-hand experience of our international, regional and national speakers.
➡️ #InnovatorsChallenge -The Great Pitch Contest selects the top10 WB countries Startup Presentations: The top 10 chosen startups from the Western Balkan region will be awarded and expanded into CEE and beyond by showcasing their ideas on the Main Stage in front of an international and national audience of fellow Founders, Investors, Mentors, Corporate Representatives, and Angel Investors.
The 1st place prize of #InnovatorsChallenge is going to be awarded by the EBRD Star Venture program. Also, a great scale-up and expansion for the other innovators is our partnership with Wolves Summit for CEE, Alpha Summit for CEE, etc.
➡️INNVEST Networking Parties: Attend Investor's evening or our famous INNVEST Networking party to meet like-minded people in a less formal atmosphere and unwind from the formality of the summits. We are going to sparkle this edition. 
➡️ Digital Fair Area: In this edition of INNVEST Summit we are excited to invite you to visit the exciting, creative and interactive Digital Fair presenting the most up-to-date tech trends and growth opportunities in Balkan and beyond. More than 30 international, regional and national cooperates, universities, and academies will demonstrate their innovation path and great interaction with talents and young generations, around 500+participants, as a unique destination of opportunities. The Summit will explore this edition's themes in;
⏩ Impact Investing & Technology from international VC perspectives
⏩Future Finance 
⏩ Smart Cities & Circular Economy by Connecting nature, earth & technology
⏩ Scaling the brightest ideas from WB countries 
⏩ Technology of Tomorrow 
⏩ Reshaping the future of Finance / Smart Finance
⏩Planning for Complexity through Technology
⏩Rethinking corporate innovation
⏩ Powering the Green Energy
⏩ Fintech 2.0
What's New?
This year's edition was an open call from the Western Balkan 6 countries as an integral part of this summit. This edition is a more intimate event of 500+ participants from the startup community, angel investors, high-level public keynote speakers, masteries, and executives meeting in the heart of Balkan to discuss technology and investments. This year INNVEST Networking event will connect the entire private funding life cycle and promote, and expand the investments into innovative companies across the WB region and beyond. 
"Improving the private capital market is so important that only collaboration can make a change. Therefore, it is necessary to use the synergies between Albania and WB6 countries to strengthen the cooperation in the entire funding lifecycle."- Fabiola Duro, Founder of INNVEST/ IMAA
Also, another milestone of this year's edition is IMAA Masterclass by Afonso Rebelo De Sousa on "Corporate synergy & innovation: a Telco-based exercise". Afonso is an Ex @LinkedIn & ex @Adidas Venture Builder. This Masterclass is hosted by Innovation Management Academy Albania (@IMAA). 
🔻Your ticket awaits to be bought IMAA Masterclass by Afonso🥇
 https://ticket.easypay.al/ev/masterclass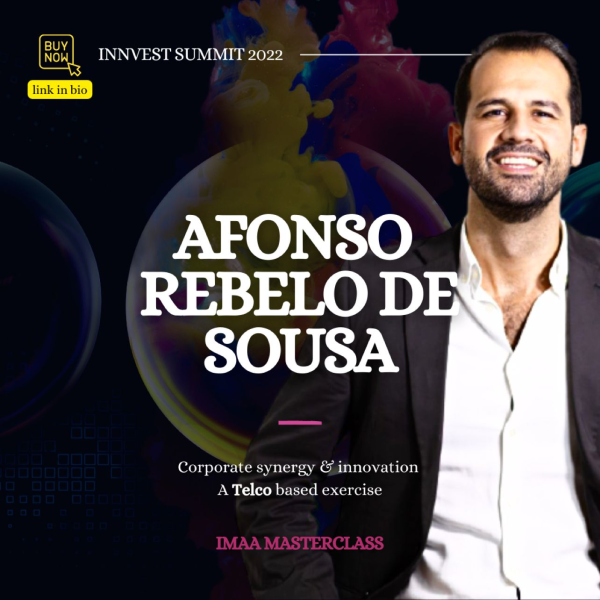 INNVEST journey continues!  
This edition has also been supported by the main loyal sponsors by NOA Financojme, Coca-Cola Bottling Albania (CCBS), and Credins Bank, and important key strategic and loyal partners as EBRD Advice for Small Businesses in Albania & Start Venture Program for WB6, National Theatre Opera, Wolves Summit CEE, PSD by GIZ, Bashkia Tirane, Tirana Youth Capital, Easy Pay, and our amazing media partner Business Magazine, Albania Tech Platform, The Recursive, etc. 
More than 30 companies will be an integral part of the Digital Fair by showing the most innovative products & services from international, regional and national companies such are: NOA Financojme, Coca-Cola Bottling Albania, Credins Bank, Easy Pay, Deloitte Albania & Kosovo C21, Gjirafa, Kreat X, VIAL Community, Pink Movement, Innovaway Booth, Albania Tech, BEA Print & Design, Balkans Capital, VATRA, AESS, Holbertone, Tumo Center Tirana, Triple city – Marlin Barleti, CIT, Laurasi University, etc will be matchmaking d with all the participants and youth generation to commit their job opportunity and matchmake their interests. 
"Over the years, the key learnings have been to work closely with key stakeholders across the national, regional, and world to develop a vibrant tech ecosystem and drive economic growth in Balkan and beyond. Home to all Western Balkan countries' startups, angel investors, businesses, innovators, researchers, and funding experts of the INNVEST network, to find curated resources, dive deeper, get inspired, and engage in Tirana is a perfect destination to host our fourth edition of this kind", adds Fabiola. 
A better way awaits to connect Angel Investors, VC funds, Mentors, Success Stories, talents, and corporations with the most promising start-ups in the WB6 region to help ambitious founders scale and foster international economic growth. We want to "Power an Inclusive Future for All" and they discuss how innovation is critical for businesses to respond to the changes we are facing today. Meet new clients and secure an investment! 
Join INNVEST Summit 2021 on October 13 & 14th, 2022 – one of the biggest multinational events in WB6 countries. 
▪️Get more info at @INNVEST/ @IMAA SM channels and at info@innvestfund.com
▪️For questions on sponsorship opportunities contact CFO, Majlinda Bara, majlindabara@innvestfund.com
▪️For PR/ Media inquiries/ infos contact Project Coordinator, Kristi Qorri, kristiqorri@innvestfund.com
▪️For government and corporate innovation contact CEO, Fabiola Duro, Fabioladuro@innvestfund.com